Remembrance is important to Ettelbruck. One of the most visited and photographed places in the city is Patton Square, a place full of significance and emotional resonance. It pays tribute to General George S. Patton Jr., commander of the 3rd American Army which liberated Ettelbruck on 25 December 1944.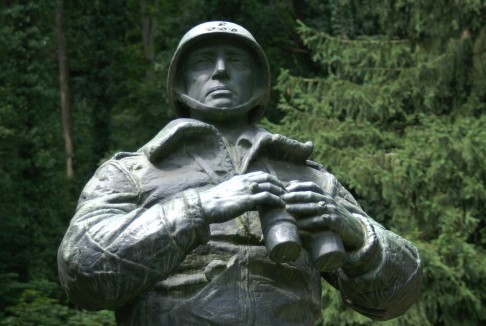 In the centre of the square stands the Patton Monument, erected with pride in front of the Sûre Bridge in the 1950s and inaugurated on 16 May 1954. The pedestal features a sword driven into the ground to symbolise the end of war and lasting peace. Above it is the emblematic animal of the United States, the eagle. The sculpture was created by the Luxembourgers Pierre Droessart (sketch) and Aurelio Sabbatini (sculpture).
Since 1970, a bronze statue of General Patton – a work by Earle Freaser – and a Sherman M4-A1 tank complete this monument. The original version of this statue is in the Westpoint Military Academy in the USA.
To complete your visit, visit the General Patton Memorial Museum to discover the special link between General Patton and Ettelbruck.
Patton Square is also the starting point for the ESCAPARDENNE Lee Trail.