Street art brings life and inspiration to our towns. This artistic movement – mostly known to the general public through graffiti – encompasses all works created in an urban context. Its ephemeral nature is one of their greatest characteristics.
Ettelbruck engaged strongly in 2017, with a street art project by Mantra, a self-taught French painter. Produced as part of the Kufa's Urban Art project, his fresco is a leading feature of the Place de la Libération.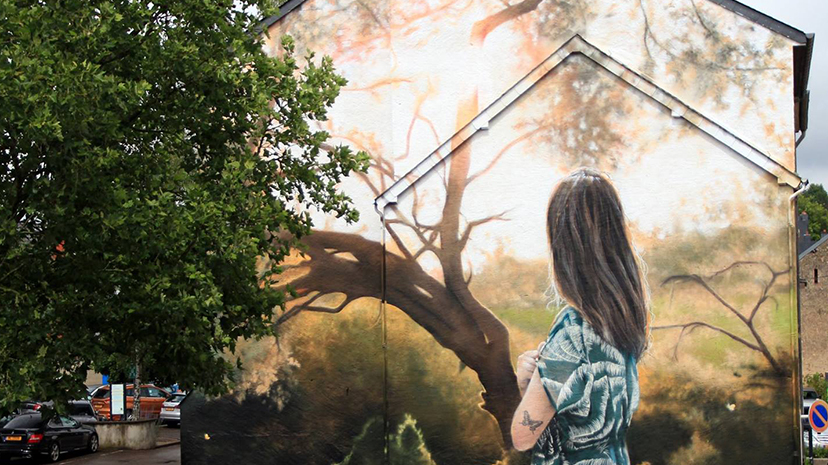 In the town's VISION 2030 for Ettelbruck, urban art plays a decisive role in the town's ambition to become the creative capital of northern Luxembourg.
Ettelbruck approaches art from a new angle to make it accessible to all. As well as the urban art works, there is the Ettelbrooklyn Street Fest and the HARIKO installation, a place for artists and young people to come together to share and create.
In the meantime, four new works have been added. In 2018, the young artist Alex McKell represented the idea of the "clean ocean": an ocean without plastic.
In 2019 the illustrator Alain Welter redesigned the façade of the General Patton Memorial Museum, and Sandra Biewers, a young artist and tattoo specialist, created her biggest ever work in Place Marie-Adélaïde.
Vidam, an illustrator and designer from Berlin, used aerosols to paint a "school-squirrel" in 2020, drawing inspiration from a classic 1980s cartoon. This work is located by the Äschenhiwwel monument.
In August, Sumo, the most recognised artist in the Luxembourg graffiti scene, will create together with 16 street artists under the Deich Bridge the largest open-air gallery in Luxembourg.