The national "Adrien Ries" trail runs for 48km (30 miles) across the Nordstad. Fully and clearly signposted, it provides a geographical and symbolic connection between the Nordstad's 6 municipalities. From the valley of the river Sûre, pass through fields and forests to viewpoint peaks. You will see castles, including the imposing Colmar-Berg castle, the residence of the Grand Duke, sovereign of Luxembourg.
More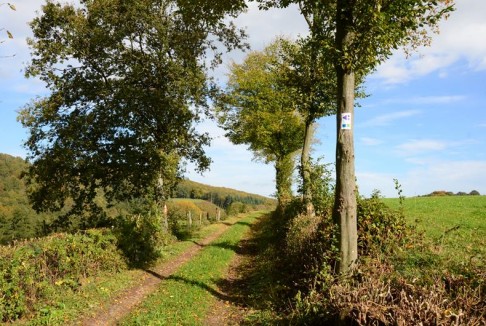 Viewpoints and points of interest
The Adrien Ries Trail is made easier to walk along as steps and ramps have been installed. Its many uphill and downhill sections have made it popular with mountain bikers. Hikers can take the walk in stages on three shorter loops. The trail pays homage to Adrien Ries, who was the first to use the term "Nordstad" to describe the Diekirch/Ettelbruck area.
Who was Adrien Ries?
Adrien Ries (1933-1991), born in Biwels (Luxembourg), was a Luxembourg lawyer, economist and author, and worked at the European Commission from 1962 to 1986. In addition to his numerous publications on economics, Adrien left his mark on Luxembourg culture as a multifaceted author of diaries, travel diaries and newspaper articles. He was also an avid hiker and travelled thousands of kilometres on foot through Luxembourg and Europe.
A tourist map of the Adrien Ries Trail is available at the Tourist Office.