Ettelbruck hosts two trails which will delight nature lovers of all ages:
The educational trail "Haff Ditgesbaach".
The educational trail "Um Kalléksuewen", which also features an attractive playground.
Didactic path Haff Ditgesbaach
On this 3 km (1.9 mile) circuit around Haff Ditgesbaach, you will learn about the biodiversity of local orchards at ten discovery stations. You will walk through fields and forest, including a superb panoramic platform designed especially for this trail.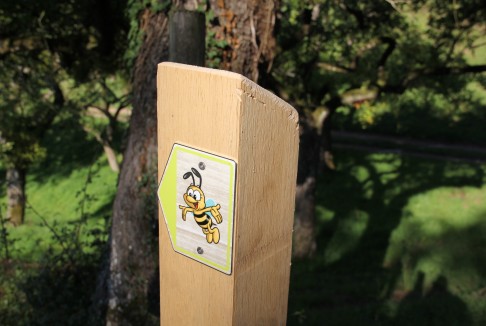 You will be guided by Yuppi, the mascot of the Cactus group, and Amélie the bee will tell you about the secret life of orchards and beehives. Do not miss the chance to learn by having fun with the articulated photosynthesis tree.
The explanatory panels are in Luxembourgish, but with translations available in French, German, English, Dutch and Portuguese from the Haff Ditgesbaach shop.
Educational path "Um Kalléksuewen"
The 5.8 km (3.2 mile) long "Um Kalléksuewen" trail takes you to the remains of the old limestone quarries. The walk continues over the Schoofsbréck bridge in Warken and back through the forest to Ettelbruck.