Beautiful hiking trails pass through Ettelbruck and neighbouring municipalities.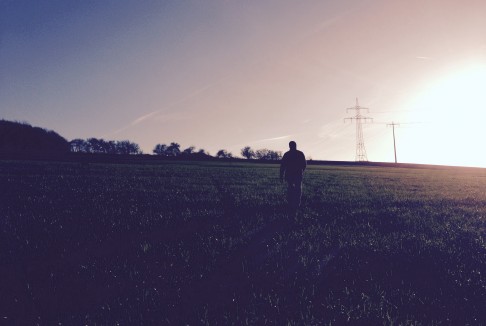 Two way-marked circular hiking trails which are easily accessible by car or public transport, start in Ettelbruck. Just follow the blue arrows!
Hiking trail Ettelbruck 1
The Ettelbruck 1 circular walk starts in the Camping Ettelbruck campsite. This circuit is of medium difficulty and is 9.7 km (6.1 miles) long.
During the camping season, hikers can refuel on the terrace of Camping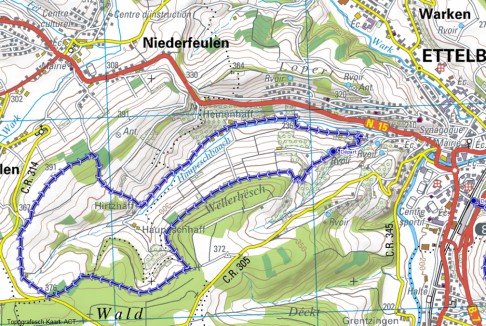 Hiking trail Ettelbruck 2
The Ettelbruck 2 trail is of medium difficulty, and is 9.4km (5.9 miles) long. It starts near the town cemetery, and very quickly you climb to 150 metres to enjoy a magnificent panoramic view of Ettelbruck. You will cross a forest with marshy ground, before a descent through the "Gebranntebësch" forest towards the village of Schieren. A final ascent to 325 metres above sea level and you begin the final descent to the Ettelbruck cemetery.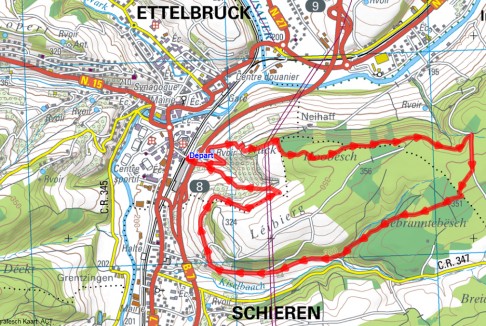 After this you will have earned a coffee or something stronger! Then it's off to the Haff Ditgesbaach shop to recharge your batteries.
View the route on geoportail.lu