Luxembourg identity card
Any citizen of Luxembourg nationality must be in possession of an identity card. The application must be personally signed (except children > 6 years old). The photo will be taken by the Population Office.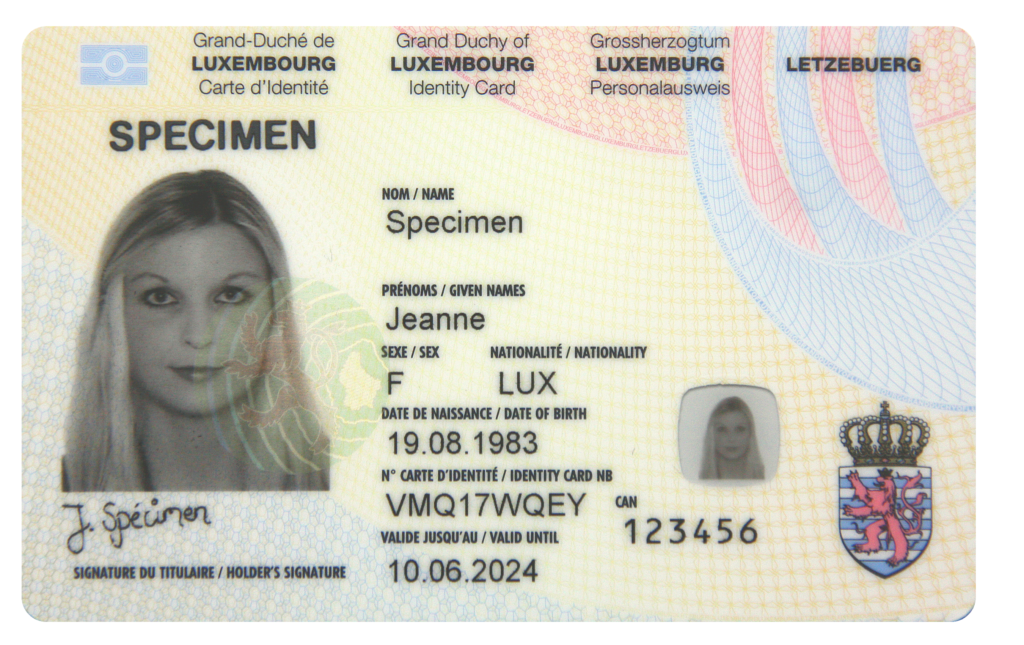 1. Validity & prices of the new identity card
2 years for children under 4 years of age:
€5.00 (by transfer) + €5 municipal tax (to be paid locally)
5 years for children aged 4 to 15 years:
€10.00 (by transfer) + €5 municipal tax (to be paid locally)
10 years for anyone over the age of 15:
€14.00 (by transfer) + €5 municipal tax (to be paid locally)
Fast-track procedure: €45 regardless of the validity period of the identity card
The document must be collected from the CTIE 11, rue Notre Dame L-2214 Luxembourg

2. Terms of payment of the State tax
1. Payment via transfer, instalment or online via MyGuichet.lu
(1 transfer per person)
Payment of the state tax must be made, by the Luxembourg resident, before personally attending the Population Office of their municipality of residence.
Account Number: IBAN LU44 1111 7028 7715 0000 (CCPLLULL)
Beneficiary: TS-CE CTIE Identity Cards B.P. 1111
L-1011 Luxembourg
Communication: First and last name
2. Payment by Digicash
Payment of the tax to the CTIE can also be made on site, by smartphone, using the Digicash app.
3. Photo
The photo that will appear on the ID card is taken on-site at the Population Office, except for children under 12 months of age and persons with reduced mobility. They must bring their own photograph (compliant with ICAO standards).
4. Documents to bring to the population office
• Proof of payment of state tax
• the current ID card, even if it has already expired
• failing this, the declaration of loss or theft established by the police
5. Issue
 of the ID card
The time period for issuing the identity card according under the normal procedure is, in principle, 10 working days (fast-track procedure: 3 working days).
The ID card must be renewed in the following cases:
Expiration of the validity period stipulated on the card
Holder's photo ID no longer matches their current appearance
Loss, theft or deterioration of the identity card
Change of holder's last name or first name
Change of address
Change of identification number
No cards can be renewed if the old card is still valid.
6. Lost/Stolen Identity Card
In the event of loss or theft, you must report the loss or theft at the Grand Ducal Police station where the theft occurred, or abroad to the local police authorities.
For more information: www.guichet.lu