Buildings and Urban Planning Department
3, place Marie-Adélaïde (Maartplaz)
L-9063 Ettelbruck
Tel.: 81 91 81 453
E-mail: batisse@ettelbruck.lu
Opening hours:
Monday-Friday:
8:00 a.m. – 11:30 a.m. and
1:30 p.m. – 4:30 p.m.
Plus d'informations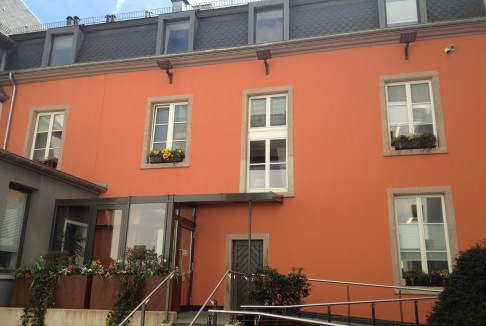 Please note that the employees of the Building and Planning Department are unable to answer all telephone calls as a large part of their work consists of work on the various building sites of the City of Ettelbruck. In case of absence, please leave a message at the call centre (81 91 81 – 453) or use the contact form.
Authorisation to Build
Before you start work to build, convert, renovate or demolish a building, you must have a building permit or you risk being ordered to stop the work.
This authorisation request must include information about the owner and the exact location of the land, and must also describe the planned work.
The building authorisation request must be sent to the Buildings and Urban Planning Department. The procedure for issuing building permits is determined by the building regulations.
Building authorisations 2023:
General Development Plan
The PAG delineates urban areas and the green area. Within the limits of the constitutional and legal provisions and insofar as they are within the sole competence of the municipal authorities, rules are to be applied for each sector PAG to download below
Solar resource map
To view the provisional version of the Solar resource map, please contact the Buildings and Urban Planning Department.
SDP